HALLOWEEN LOVE HEART ORGANZA BAG (2 or 3 mini rolls random wrapper design)
---
HALLOWEEN LOVE HEART ORGANZA BAG (2 or 3 mini rolls random wrapper design)
£0.55
HALLOWEEN LOVE HEART ORGANZA GIFT BAG (choice of 2 or 3 mini rolls)
Mini rolls of love heart sweets with personalised halloween wrappers in random designs. Presented in a black, purple or orange organza gift bag.
2 rolls of love hearts in bag - 55p
3 rolls of love hearts in bag - 75p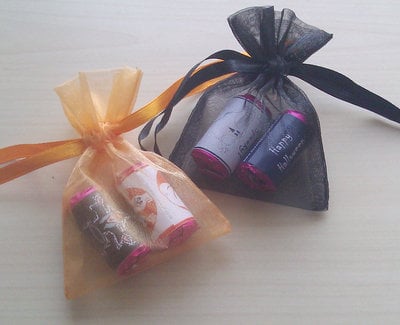 Please choose from the menu below whether you would like 2 or 3 rolls in the bag. The total will be adjusted accordingly.
Please type in the freetext box below what personalisation you would like on the wrappers. You can have your own message or something simple like "Happy Halloween".