CHILD'S OWN DRAWING - mini 4.5g favour
---
CHILD'S OWN DRAWING - mini 4.5g favour
£0.45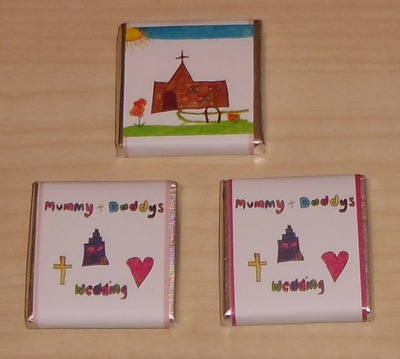 YOUR CHILD'S OWN DRAWING design
Mini square chocolate bars with a personalised wrapper designed by your own child.
If you are looking for a truly personal design for your wedding favours why not let the children in your family design the wrappers by using their own artwork. Their own drawing can be put onto the front of the wrapper together with a short message/your names/date of wedding etc on the back.
Mini 4.5g square chocolate bars in a choice of 6 flavours.
SIZE OF CHOCOLATE BAR: 3.5cm squared.
PRICE STARTS AT: 45p per bar and price decreases the more you order.
Your child's drawing will be scanned and reduced in size to fit onto the front of the square choc bars. Your names or a short message can also be added to the back of the wrapper.
Please type in the freetext boxes below the personalisation you would like on the back of the wrapper.
On a square piece of paper (no bigger than an A4 sheet) please ask your child to draw a vibrant picture preferably using felt tip pens. Please then either scan the picture and e-mail it to us, or alternatively if you do not have a scanner you can post it to us. Original drawings will be returned with your order.
Please click the "quantity price adjustment" menu below and choose the price bracket relevant to how many bars you would like. Your price will be automatically adjusted.
Any questions or problems placing your order please feel to contact me via our "live chat" facility, telephone 07727 630552 (answerphone available when away from the phone) or e-mail us on [email protected].