CHILD'S OWN DRAWING - love hearts (2 sizes)
---
CHILD'S OWN DRAWING - love hearts (2 sizes)
£0.25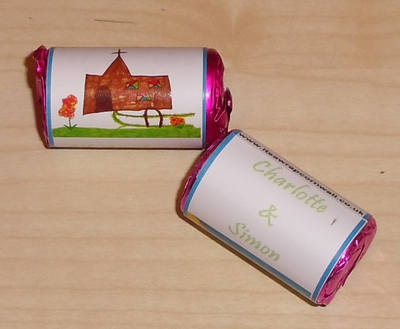 YOUR OWN CHILD'S DRAWING design personalised wrapper on mini rolls of love hearts.
If you are looking for a truly personal design for your wedding favours why not let the children in your family design the wrappers for these love heart sweets by using their own artwork. Their own drawing can be put onto the wrapper along with a short message/your names/date of wedding.
Mini rolls of love hearts (7 sweets) - 25p each
Giant rolls of love hearts (26 sweets) - 65p each
(Please note that these are normal love heart sweets inside the packet - we are not able to offer actual personalised sweets I'm afraid)
Please type in the freetext boxes below the personalisation you would like on the wrapper. If you just want the artwork and no additional message please type n/a in the relevant box.

Please ask your child to draw a vibrant picture on an A4 sheet of paper preferably with felt tip pens as this will make the drawing stand out. Please then either scan the picture and e-mail it to us, or alternatively if you do not have a scanner you can post it to us. Original drawings will be returned with your order.

E-MAILED PROOF
Please click the box below if you would like us to e-mail you a photograph proof of a finished sample before we go to print on your order to make sure you are completely happy with everything.
Any questions please feel to contact me via our "live chat" facility, e-mail on

[email protected]

or telephone 07727 630552.