PHOTO - large chocolate bar 40g
---
PHOTO - large chocolate bar 40g
£1.00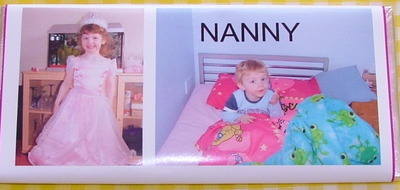 PHOTO BAR

Let us add your own photographs to a chocolate bar wrapper for an extra special gift. Names and a message can also be added to the design.
Rectangle chocolate bar available in 3 sizes and flavours. Your photo will be printed onto the front of the bar along with names and your own message.

MILK CHOCOLATE - 40g, 100g or 200g size available - £1.00 each
PLAIN CHOCOLATE - 40g, 100g or 200g size available - £2.50 each
WHITE CHOCOLATE - 40g or 100g size available - £4.00 each
Size guide:
40g bar - 11 x 5.5 cm x 0.8 cm
100g bar - 18 x 9.5 cm x 0.6 cm
200g bar - 19 x 9.5 x 1.5 cm
Please choose which size and type of bar you would like and type in the freetext boxes below the personalisation you would like on each side of the wrapper. If you don't need personalisation on the back please type n/a.

You can e-mail a photograph direct to us, or alternatively feel free to post us the original and we will scan it our end. The original photo will be returned with your order.
WRAPPERS WITH YOUR OWN CHILD'S ARTWORK ARE ALSO AVAILABLE.