CHILD'S OWN ARTWORK - large chocolate bar 40g
---
CHILD'S OWN ARTWORK - large chocolate bar 40g
£1.25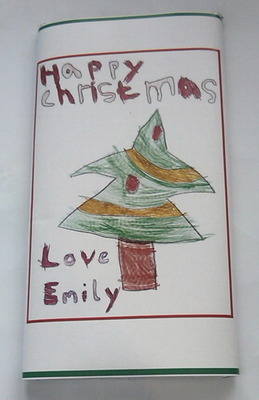 CHILD'S OWN ARTWORK BAR

Let your children's creative ideas run wild and let them design the perfect chocolate wrapper for your family. Not only can you have your own personal message added to the wrapper but by using your own child's drawing it will make it even more unique and special.
Using an A4 sheet of paper please ask your child to draw a christmas picture. Please use felt tip pens where possible as these stand out better than pencils or crayons, and the more vibrant and colourful the picture is the clearer it comes out when it is reduced to fit the chocolate bar. They can use the whole of the A4 sheet if they would like to.
Rectangle chocolate bar available in 3 sizes and flavours. Your child's artwork will be printed onto the front of the bar along with names and your own message.

MILK CHOCOLATE - 40g, 100g or 200g size available - £1.25 each
PLAIN CHOCOLATE - 40g, 100g or 200g size available - £2.75 each
WHITE CHOCOLATE - 40g or 100g size available - £4.25 each
Size guide:
40g bar - 11 x 5.5 cm x 0.8 cm
100g bar - 18 x 9.5 cm x 0.6 cm
200g bar - 19 x 9.5 x 1.5 cm
Please choose which size and type of bar you would like and type in the freetext boxes below the personalisation you would like on each side of the wrapper. If you don't need personalisation on the back please type n/a.

You can e-mail a scanned copy of your child's artwork direct to us, or alternatively feel free to post us the original and we will scan it our end. The original artwork will be returned with your order.
WRAPPERS WITH YOUR OWN PHOTOS ARE ALSO AVAILABLE.
Any questions or problems placing your order please contact us via our "live chat" facility, e-mail [email protected] or telephone 07727 630552.