RUNAWAY GROOM (black) - mini 4.5g favour
---
RUNAWAY GROOM (black) - mini 4.5g favour
£0.40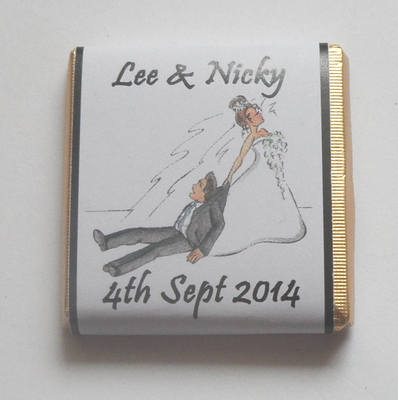 RUNAWAY GROOM (black) design
(Exclusive design for It's A Wrap Cornwall - original artwork by Cornish artist Lisa Grenfell)

Mini 4.5g square chocolate bars in MILK, MINT, PLAIN, MINT CRISP or ORANGE flavour.
SIZE OF CHOCOLATE BAR: 3.5cm squared.
PRICE DECREASE FOR ORDERS OVER 50 BARS. If you would like to order more than 50 bars please e-mail us on [email protected] and we will process your order manually and send you an invoice.
Under 50 bars: 40p each
50-99 bars: 35p each
100-250 bars: 30p each
251-500 bars: 29p each
over 500 bars: 28p each
Your names and date of wedding can be added to the front of this wrapper above and below the picture with a short message eg: "Thank you for sharing our special day" printed on the back. Alternatively you can have just the picture on the front with all wording on the reverse.

Please type in the freetext boxes below the personalisation you would like on each side. If you don't want anything on either side please type n/a in the relevant box.
Also available with the same personalised matching wrapper
* Love hearts * Bubbles * Party poppers * Rectangle bars of chocolate *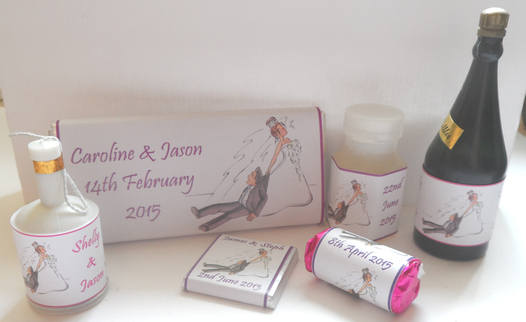 E-MAILED PROOF
Please click the box below if you would like us to e-mail you a photograph proof of a finished sample before we go to print on your order to make sure you are completely happy with everything.
Any questions please do not hestitate to contact us via our "Live chat" facility, telephone 07727 630552 (answerphone available if we are away from the phone) or e-mail [email protected]