STARFISH (BLUE) - mini 4.5g favour
---
STARFISH (BLUE) - mini 4.5g favour
£0.40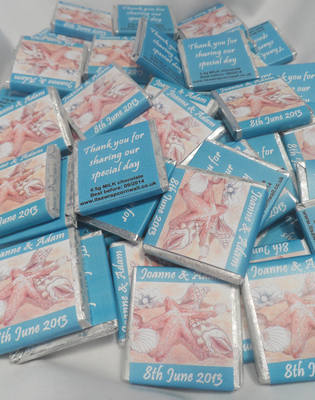 STARFISH (blue) design

Mini 4.5g square chocolate bars in a choice of 5 flavours.
SIZE OF CHOCOLATE BAR: 3.5cm squared.

Your names can be added to the front of this design with a short message eg: "Thank you for sharing our special day" or the date of your wedding printed on the back.
The background blue colour you see on this picture can be changed to any other colour to suit your theme. Please type in the freetext box below what colour you would like for this background colour and we will try and match it as best we can.

Please type in the freetext boxes below the personalisation you would like on each side. If you don't want anything on either side please type n/a in the relevant box.

Other personalised products with the same design also available.
LOVE HEARTS
MINI BOTTLES BUBBLES
PARTY POPPERS
LARGER BARS OF CHOCOLATE
ORGANZA GIFT BAGS WITH CHOCOLATE/LOVE HEARTS INSIDE.

E-MAILED PROOF
Please click the box below if you would like us to e-mail you a photograph proof of a finished sample before we go to print on your order to make sure you are completely happy with everything.
EXCLUSIVE WRAPPER DESIGN FOR IT'S A WRAP CORNWALL. Original artwork designed by Cornish artist Lisa Grenfell.
Any questions please feel to contact me.