HEARTS ENTWINED (red) - mini 4.5g chocolate favour
---
HEARTS ENTWINED (red) - mini 4.5g chocolate favour
£0.40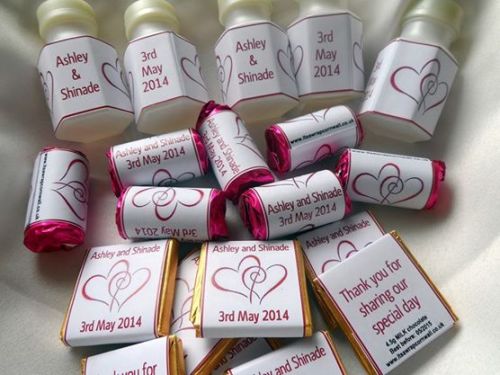 HEARTS ENTWINED (red) design mini chocolates
(Exclusive design for It's A Wrap Cornwall - original artwork by Cornish artist Rachel Henson)

4.5g bar in a choice of MILK, MINT CRISP, PLAIN, ORANGE or MINT flavoured chocolate.
Size of chocolate 3.5cm squared.
Personalisation can be added to both the front and the back of the wrapper.

Please type in the freetext box below what personalisation you would like and your choice of chocolate flavour.
PRICE DECREASE FOR ORDERS OVER 50 BARS (Bulk purchase discount). To receive this discount please e-mail your order to [email protected] where we can process your order manually, alternatively please place your order online and we will refund the discount.
Under 50 bars: 40p each
50-99 bars: 35p each
100-250 bars: 30p each
Also available with the same personalised matching wrapper
* Love hearts * Bubbles * Party poppers * Rectangle bars of chocolate *
Any questions please do not hesitate to contact us via our "Live Chat" facility, telephone 07727 630552 or e-mail [email protected]