FAVOUR BOX (black & white) - personalised (box only)
---
FAVOUR BOX (black & white) - personalised (box only)
£1.90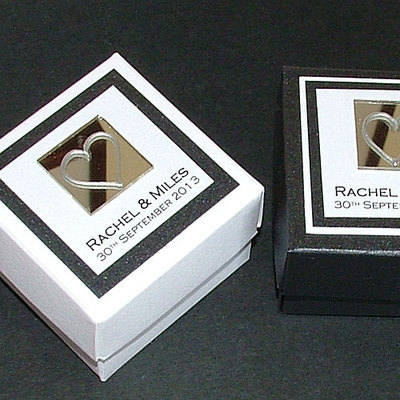 Personalised favour box with a black colour accent.
Mirror tile with handpainted heart design on the top of the box.
Your names and date of wedding are printed underneath the mirrored heart design on the lid of the box.

SIZE OF BOX: 5x5x3 cm or 5x5x5 cm
BOX FINISH: Textured (£1.90) or Pearlescent (£2.00)
BOX COLOUR: White, ivory or black
ACCENT COLOUR: (square colour border on lid of box): White, ivory or black
You are purchasing 1 empty box.
Please choose from the drop down menus below the size, colour, finish and accent colour for your box.
Our mini square chocs & mini rolls of love hearts will fit into these boxes (separate listings of filled boxes will be appearing shortly).
In the meantime however if you would like to purchase this box AND some of our mini chocs or love hearts please order these separately and we will fill each box with the products before delivery. Some suggestions on which of our products will fit these boxes:
1 mini 4.5g chocolate and 1 mini roll of love hearts
3 mini rolls of love hearts
up to 5 mini 4.5g chocolates

If you have any questions or problems placing your order please feel free to contact us via our "live chat" facility, e-mail us on [email protected] or telephone 07727 630552 (answerphone available if we are not able to get to the phone)