RACING CAR - large chocolate bar 40g
---
RACING CAR - large chocolate bar 40g
£1.00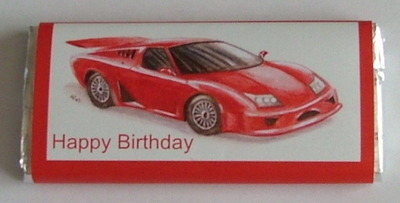 RACING CAR
Rectangle chocolate bar with a personalised "racing car" design wrapper.
Available in 3 sizes and flavours.
Your own personalisation can be added to the front and back of this wrapper design.
Size, flavour and price guide:
40g bar - 11 x 5.5 cm x 0.8 cm :
£1.00 each
- milk, plain or white available
100g bar - 18 x 9.5 cm x 0.6 cm :
£2.50 each -
milk, plain or white available
200g bar - 19 x 9.5 x 1.5 cm :
£4.00 each
- milk or plain available
Please choose which size bar you would like from the drop down menu below, the price will be automatically adjusted.
Please type in the freetext boxes below the personalisation you would like on each side of the wrapper. If you don't need personalisation on the back please type n/a.
Other products also available with this wrapper design (will be available soon). If you would like to order any of these but they are not yet listed please contact us via our "live chat" facility, phone or e-mail.
EXCLUSIVE WRAPPER DESIGN FOR IT'S A WRAP CORNWALL - original artwork designed by

Any questions or problems placing your order please feel to contact us through our "live chat" facility, by e-mail on

[email protected]

or telephone 07727 630552 (answerphone available when unable to get to the phone)