RED PERSONALISED CHILD'S BRACELET
---
RED PERSONALISED CHILD'S BRACELET
£6.99
Red personalised children's bracelet
Mystic coated rose quartz rounds, rose quartz rounds, clear quartz carved roses and antique silver daisys.
Made to order and sized according to age of child. The bracelet has an extender chain so can be easily adjusted. The bracelet also has a small charm attached (eg: flowergirl, bridesmaid, please choose from the drop down menu which charm you would like). Charm not shown in picture above but you can see them below.
The price of the bracelet depends on how many letters you require for the child's name:
Up to 5 letters - £6.99
6+ letters - £7.49
Please type in the freetext boxes below the name, age of the child and the date you need the bracelet for. Please also click the drop down menu for the number of letters required and the price of the bracelet will be adjusted accordingly.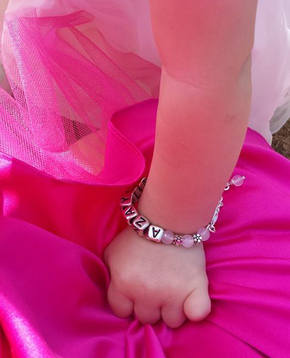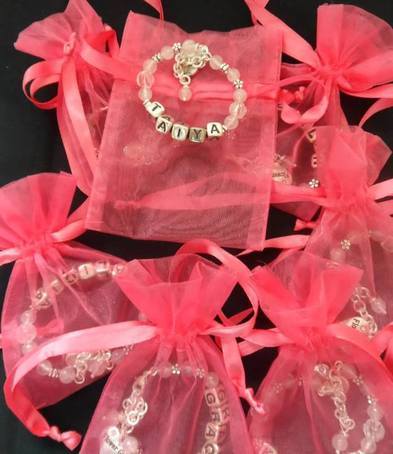 Other colours available on request with gemstones to match your wedding colour, or clear gemstones also available.
SAFETY PRECAUTIONS: Please note that this bracelet is handmade to order and the items used are securely fastened but they are small and delicate. All responsibility falls with the parents of the children who are given these bracelets. They must be treated as jewellery and NOT a toy. Please ensure that children DO NOT put the small pieces near their mouths. Thank you
PLEASE NOTE: all our jewellery is made with genuine gem stones. The colour may vary slightly to what is shown in our pictures due to availability at the time of ordering.
Any problems placing your order please contact us through our "live chat" facility, e-mail [email protected] or telephone 07727 630552 (answerphone available when away from the phone)